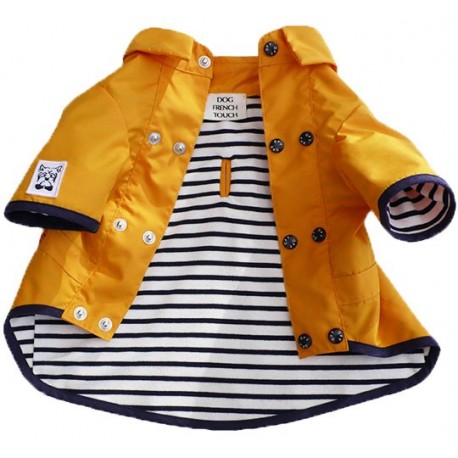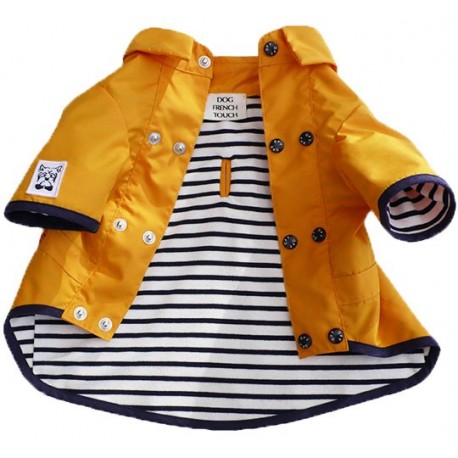 Raincoat Saint-Malo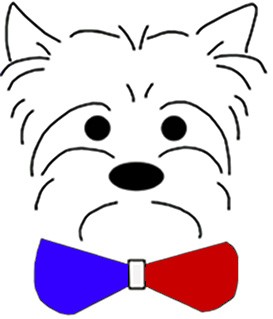 Yellow Bretagne raincoat with a belt buckle decor on the back.

Lined with Deauville sailor suit fabrics.
Adjustable closure with snaps. A small opening on the back allows you to attach the leash to your dog's harness.

The raincoat Saint-Malo is exactly the same as the raincoat Cherbourg, but with a different 

lining color.
The yellow Brittany fishermen raincoat became the quintessential 20th century marine waterproof garment. In the 1930s and 1950s, it even became the official clothing of the French Navy. This major French fashion icon quickly crossed the Atlantic and received its homage in 1952 with the film "Singing in the Rain". The famous yellow Brittany raincoat is often in France paired with the fabric of the beige/navy blue sailor stripes, which is the lining style we offer.
Quality
100% polyester-polyurétane
Dog French Touch pays special attention to the beautiful quality fabrics used in our products. This elegant raincoat is also breathable. Dogs do not sweat with this raincoat.
All the snaps we use on our dog clothes have the REACH CERTIFICATION. That means that no dangerous chemical susbtances in our snaps might have a bad impact on your dog.
REACH is a new European Community Regulation on chemicals and their safe use which stands for Registration, Evaluation, and Authorization of Chemical substances. The aim of REACH is to improve the protection of human health and the environment through the better and earlier identification of the intrinsic properties of chemical substances. The REACH Regulation gives greater responsibility to industry to manage the risks from chemicals and to provide safety information on the substances.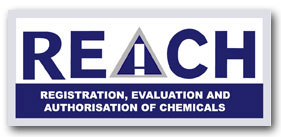 Cleaning
Machine washable sailor suit at 86°F
Do not tumble dry
Size chart to choose your raincoat (in inches) 
Raincoats are available in 5 sizes.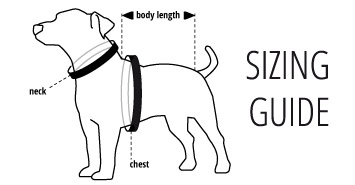 | | | | | |
| --- | --- | --- | --- | --- |
| SIZE | NECK | CHEST | BACK | DOG |
| XS | 8,7 | 15,8 | 5,1 | Chihuaha 5,2-5,5 lb  |
| S | 10,2 | 17 | 6,2 | Yorkshire 5,8-5,9 lb |
| M | 11,8 | 18,1 | 7,8 | Yorkshire 11-13,3 lb |
| L | 13,4 | 20,5 | 10,2 | Westie 15,7 lb |
| XL | 15 | 22,5 | 11,8 | Cavalier King Charles 17,2-19,2 lb |

The French Craftsmanship

The Dog French Touch brand has a particular interest in French manufacturing and beautiful finishing.
This raincoat was made in France. The lining fabrics has been produced in the Troyes basin exclusively for Dog French Touch, and the raincoat has been manufactured in France's Vendée region, in Moutiers les Mauxfaits.
Data sheet
BRAND

DogFrenchTouch

FRENCH BRAND :

Yes

MADE IN FRANCE :

Yes

Care

Lavable en machine

Échange de taille

COÛT 10 EUROS

LIVRAISON

Livraison GRATUITE par La Poste, en 3 à 6 jours
You might also like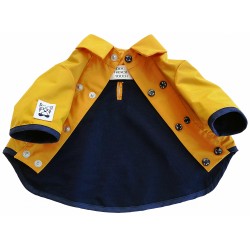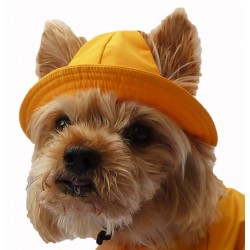 10 other products in the same category: